Nicolet High School
Class of 1988
ANNOUNCEMENTS
Class of '88, please take a few minutes to fill out this contact info sheet, to ensure you will receive any reunion information! Survey info (not contact info) will be shared via email with those who fill out the survey:
https://goo.gl/forms/JWWJVzYGfheFPqHa2
Hey class of '88! Next year will be 30 years since we graduated. No one had initiated a 30 Year reunion, so a few of us have stepped forward to work to make it happen. Please:
1) update your profiles on this site to make everything current, including email address, mailing address, location, photo, etc.
2) JOIN the Facebook group "Nicolet Class of '88" and ask to join
3) vote on there for dates
4) add your FB friends who graduated from Nicolet in 88 5) reply to discussions on here and let us know if you can help Thank you!


All classmates senior photos are now posted to the "Senior Yearbook" page.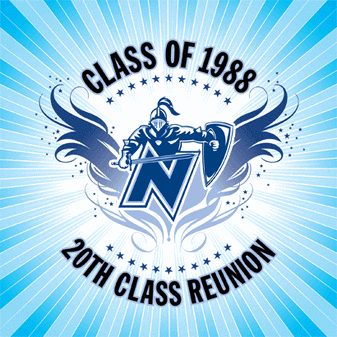 What can I say -- the 20th Reunion was AMAZING. I don't think any of us could have imagined how great the evening would have turned out to be. When we began planning in early February we knew we wanted this 20th Reunion to be special and each and every one of you made it even more so.

We had classmates who had not been back to Milwaukee in years, friends from all over the country travel in and even one classmate come all the way from Israel, just to attend the event!
PLEASE be sure to post your photos of the event to your profile page, for all to enjoy.

In addition -- I have created a free FLICKR photo sharing group for you to all upload your photos. Sign up and upload your photos as soon as you have time, its FREE and EASY. http://flickr.com/groups/nicolet1988

Here we can share ALL the evenings photos in one group for anyone to enjoy: friends, family and classmates.

- - -

We officially have 73% of the class signed in and I want to thank you ALL for making the site a continued success!

299 classmates have signed in
Updated June 8, 2016
- - -
Email us RECENT photos and we will post them to the "RECENT PHOTOS" page. Email your photos to info@nicolet-1988.com
- - -
Questions about the website? Please email info@nicolet-1988.com
- - -
Know of any missing Nicolet Class of 1988 classmates? Use the email box on the right of the home page to send an invite to our site.
- - -
Poll results:
#1) Mr. Kessler was voted overwhelmingly "Most Memorable Teacher"
#2) In the "The Breakfast Club" who did you most identify with: Emilio Estevez - The Athelete
#3) Where were you "most likely to be seen" hanging out": Bayshore Mall/Rocky Rococo's
#4) Which 80's song would you be happy to never hear again? "Karma Chameleon" by Culture Club
#5) How much do you think you've changed, physically, since graduation? 50% said, "Some, but I feel about the same."
#6) If I knew then what I know now I would have: 43% said, Not worried so much about what others thought of me
#7) Who would you most likely vote for President this Fall?: 58% said, Barack Obama
#8) What was your favorite show in the 80s?: 29% said, Family Ties
#9) Who was your favorite movie star in the 80s?: 29% said, Michael J. Fox
#10) What was your favorite "Game Show" in the 1980's: 42% said, The Joker's Wild
#11) What was your favorite slow dance/makeout song of the 80's?: 41% said, Open Arms - Journey