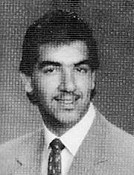 Juan Mendez died in the accident that took place Sep 20, 1997 on State Highway 23 near Banner Road.

A car slammed into the rear of a school bus about eight miles east of Fond du Lac, killing the driver.

None of the 11 St. Paul's elementary schoolchildren on the bus or its driver was injured, he said. Miller said two children had just gotten off the bus and were crossing the highway when the accident occurred.