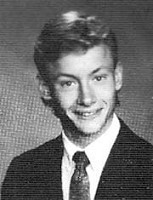 Joe Butscher, who passed away on January 3, 2007, of complications of a rare form of lung cancer (despite the fact that Joe was not a smoker). Joe had a wife Jennifer and two children, Grace, age 3 and Sophie, who was born on April 24, 2007

Dear Fellow Classmates,
The passage of time since our graduation has been wonderful, but also tragic. We have lost some of our friends since graduation, including Joey Butscher. I was unable to attend his funeral in 2007, but I knew that I wanted to do something in memory of his life. Jason Handal and I decided we would run the Milwaukee Marathon in his memory, and raise money at the same time. The family was happy and grateful to receive over $5000 in his honor, to be used for his children's college education.
I traveled to Milwaukee from Texas for the marathon, and had the awesome pleasure of meeting his wife, Jennifer, and his family. Jennifer shared a grueling story about their journey with cancer…sometimes you are simply amazed by the strength that some people possess.
I wanted to share with you pictures of his sweet family. Unfortunately, they never were able to get a family picture of all four of them because Sophie was born several months after Joey passed away. The family picture is of Joe, Jennifer, who is pregnant, and Grace. There is also I picture of Sophie Joe (the youngest) with Grace.
I know that Joey touched many of us during our high school years in a lot of different ways. It is hard to believe that such a vibrant person has passed away leaving a precious family behind. There are two ways you can honor Joey's memory if you feel moved to do so.
The first choice is to honor his memory through a contribution to his children's education fund
(this is my personal choice as it is a direct connection to Joey, and is also the beneficiary of the initial $5000).
Checks should be made payable to Edvest and in the memo area write "Grace and Sophie Butscher" and then mail the check to Jennifer's financial planner below.
Mr. Paul Coldagelli
Landaas and Company
Investment Services
411 E. Wisconsin Ave. 20th Floor
Milwaukee, WI 53202
Another way you could donate is to provide funds for research in cancer.
Joey died from a very unique type of cancer that is so rare that they can barely get candidates for research to live long enough to conduct a complete study.
Checks can be made payable to Froedtert Hospital Foundation in the memo area of the check should be "Cancer Center-Memory of Joseph Butscher"
Froedtert Hospital Foundation
9200 W. Wisconsin Ave.
Milwaukee, WI 53226-3596

Here is a quote from Jennifer, Joey's wife.
"I would love to just tell the class of 1988 that I think it is wonderful how so many people have come together to enjoy reuniting with friends and at the same time, remembering Joe. He loved his high school days and told me many stories (and left many stories out :)) of the people that he loved. I will be sure to tell Grace and Sophie Joe of the special people that made such an impact on Joe's life. "Thanks to everyone for keeping our little family in your thoughts and prayers."

I look forward to seeing everyone at the reunion.
Fondly,
Martha Mullen Conroy