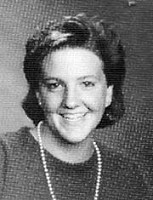 Laure passed away on Dec. 21, 1997 of a stroke. Beloved wife and best friend of Terrence. Dear daughter of Richard and Susan Heubner. Dear sister of Susan (Doug) Temple and Heidi (Carl) Banaszynski. Nieces, nephews other relatives and friends.

She followed her soccer dreams and attended UW-Green Bay but stayed only a year after the coach who recruited her, left before the season began. She transferred to UWM but no longer played soccer. She sure loved it though.

She was married to Ted Byrne and they lived in Waukesha for a year until the time of her death. She is also survived by two sisters, Susan Temple of Grafton, WI and Heidi Banasczynski of Scottsdale, AZ.

Both her sisters also attended Nicolet.