ANNOUNCEMENTS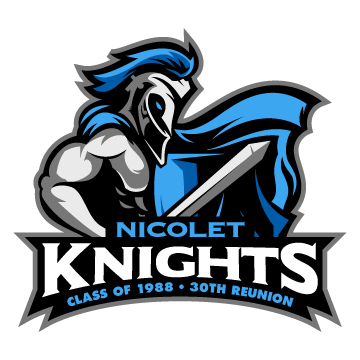 Our 30 year Nicolet High School reunion is coming up on Saturday, July 28th! We have a fabulous evening planned at the beautiful Rumble Room in the Harley-Davidson Museum. Drinks, plenty of food, dancing and an updated slideshow are all in the works. DJ Noah Lookatch (Alum Tedd Lookatch's son!) will be playing music from the '80s and today.

Plus, the entire Harley-Davidson Museum will be available to us for free tours during the evening!
So buy your tickets and let's party like it's 1988!!!
Don't miss out on a private tour of Nicolet High School (it's been renovated!) on Saturday morning at 10:00am, conducted by the current Principal and the Alumni coordinator.
Click Here to buy tickets.

Other Reunion To Do's:

1) Email (up to 5) photos of high school days OR current family shots to the Reunion Committee (nicoletclassof88@gmail.com)

2) Fill out the Nicolet Class of 88 Contact Form (coming soon via email) so we can update our records and send out postcards.

3) UPDATE your profile on this Reunion Website!

4) JOIN our Facebook group: Nicolet Class of 88

5) Book your hotel soon! We have a limited # of discounted rooms held at: Holiday Inn Airport, Intercontinental Downtown, Holiday Inn Milwaukee Riverfront, Marriott Residence Inn Milwaukee Downtown.

Please also SPREAD THE WORD about the reunion to your classmates, and point them to this site if you don't find them on here.

Thank you!

IT'S 30TH REUNION TIME
To commerate the event, we're selling a Class of 1988 t-shirt.
We have a $16 standard t-shirt and a $21 lightweight ring spun cotton men's
and women's shirt (2XL-6XL additional). These are not for profit and wanted to
keep the price lower and SHIPPING IS FREE.
Shirts are available in: white, black, navy blue, royal blue, charcoal grey or pink.
All shirts are custom printed to order so u can select the size and color that you want.
GET YOURS BEFORE THE REUNION! www.phunkythreads.com/nicolet88

- - -
Email us RECENT photos and we will post them to the "RECENT PHOTOS" page. Email your photos to drew@boom-creative.com
- - -
Questions about the website? Please email drew@boom-creative.com
- - -
Know of any missing Nicolet Class of 1988 classmates? Use the email box on the right of the home page to send an invite to our site.
- - -
Poll results:
#1) Mr. Kessler was voted overwhelmingly "Most Memorable Teacher"
#2) In the "The Breakfast Club" who did you most identify with: Emilio Estevez - The Athelete
#3) Where were you "most likely to be seen" hanging out": Bayshore Mall/Rocky Rococo's
#4) Which 80's song would you be happy to never hear again? "Karma Chameleon" by Culture Club
#5) How much do you think you've changed, physically, since graduation? 50% said, "Some, but I feel about the same."
#6) If I knew then what I know now I would have: 43% said, Not worried so much about what others thought of me
#7) Who would you most likely vote for President this Fall?: 58% said, Barack Obama
#8) What was your favorite show in the 80s?: 29% said, Family Ties
#9) Who was your favorite movie star in the 80s?: 29% said, Michael J. Fox
#10) What was your favorite "Game Show" in the 1980's: 42% said, The Joker's Wild
#11) What was your favorite slow dance/makeout song of the 80's?: 41% said, Open Arms - Journey