ANNOUNCEMENTS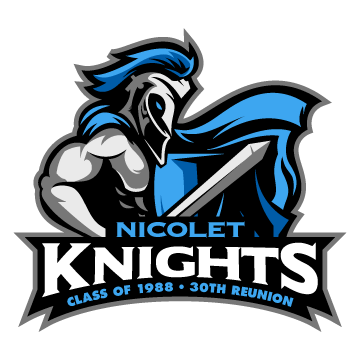 Celebrate our 30th reunuion with a Class of 1988 t-shirt.
We have a $16 standard t-shirt and a $21 lightweight ring spun cotton men's
and women's shirt (2XL-6XL additional). These are not for profit and wanted to
keep the price lower and SHIPPING IS FREE.
Shirts are available in: white, black, navy blue, royal blue, charcoal grey or pink.
All shirts are custom printed to order so u can select the size and color that you want.
www.phunkythreads.com/nicolet88
Questions about the website? Please email drew@boom-creative.com
- - -
Know of any missing Nicolet Class of 1988 classmates? Use the email box on the right of the home page to send an invite to our site.
- - -
Poll results:
#1) Mr. Kessler was voted overwhelmingly "Most Memorable Teacher"
#2) In the "The Breakfast Club" who did you most identify with: Emilio Estevez - The Athelete
#3) Where were you "most likely to be seen" hanging out": Bayshore Mall/Rocky Rococo's
#4) Which 80's song would you be happy to never hear again? "Karma Chameleon" by Culture Club
#5) How much do you think you've changed, physically, since graduation? 50% said, "Some, but I feel about the same."
#6) If I knew then what I know now I would have: 43% said, Not worried so much about what others thought of me
#7) Who would you most likely vote for President this Fall?: 58% said, Barack Obama
#8) What was your favorite show in the 80s?: 29% said, Family Ties
#9) Who was your favorite movie star in the 80s?: 29% said, Michael J. Fox
#10) What was your favorite "Game Show" in the 1980's: 42% said, The Joker's Wild
#11) What was your favorite slow dance/makeout song of the 80's?: 41% said, Open Arms - Journey